Resources
Corruption Perceptions Index (CPI) 2009
According to Transparency International's 2009 Corruption Perceptions Index (CPI), the vast majority of the 180 countries included in the 2009 index score below five on a scale from 0 (perceived to be highly corrupt) to 10 (perceived to have low levels of corruption). The CPI measures the perceived levels of public sector corruption in a given country and is a composite index, drawing on 13 different expert and business surveys of 10 different organizations.
The survey data indicated that fragile, unstable states that are scarred by war and ongoing conflict linger at the bottom of the index. These are: Somalia, with a score of 1.1, Afghanistan at 1.3, Myanmar at 1.4 and Sudan tied with Iraq at 1.5. Highest scorers in the 2009 CPI are New Zealand at 9.4, Denmark at 9.3, Singapore and Sweden tied at 9.2 and Switzerland at 9.0. These scores reflect political stability, long-established conflict of interest regulations and solid, functioning public institutions.
Overall results in the 2009 index are of great concern because corruption continues to lurk where opacity rules, where institutions still need strengthening and where governments have not implemented anti-corruption reforms. Bahrain, Greece, Iran, Malaysia, Malta and Slovakia declined in 2009, compared to 2008, while Bangladesh, Belarus, Guatemala, Lithuania, Moldova, Montenegro, Poland, Syria and Tonga improved their scores this year.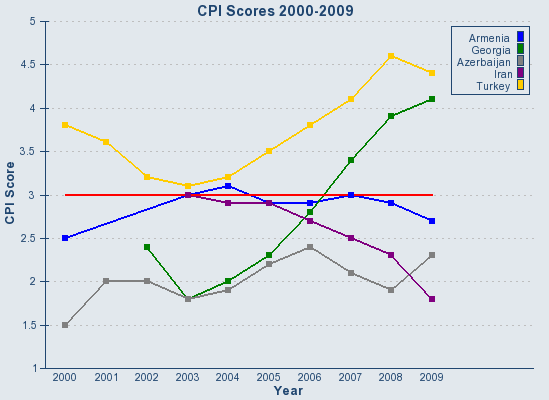 Among post-Soviet countries, the lead is again taken by Estonia, with a score of 6.6. As to our region, Georgia and Azerbaijan went up from 3.9 to 4.1 and 1.9 to 2.4, respectively, while Armenia dropped from 2.9 to 2.7. Other neighboring countries such as Iran and Turkey also fell down by 0.5 and 0.2, correspondingly. However, Armenia, Azerbaijan and Iran are still scored below 3.0, which is characteristic for countries with rampant corruption, whereas Georgia and Turkey have demonstrated a continuing progress since 2004 by reaching a level above 4.0.
For additional information please visit: http://www.transparency.org/policy_research/surveys_indices/cpi/2009